Breakthrough at the Mossehallen escape tunnel in Moss/Norway
On February 7, 2023 Bane NOR, MossIA ANS and guests celebrated the breakthrough of the Mossehallen escape tunnel. MossIA - the Implenia and ACCIONA joint venture - will design and build 9 out of 10 kilometres of the Sandbukta – Moss – Såstad (SMS2A) project for Bane NOR. The primary goal of the project is to increase capacity and shorten travel time on the Østfold line.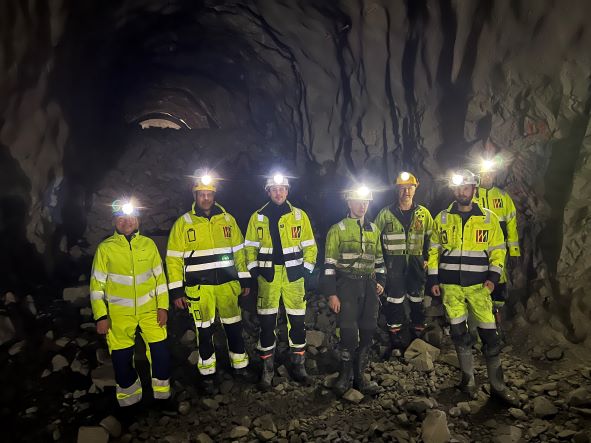 The new double track railway goes through the municipality of Moss, with two main tunnels: the 2,7 km Mossetunnel in the north and the 2.3 km Carlbergtunnel in the south. In addition, the project is building two escape tunnels from the Mossetunnel and a parallel escape tunnel in the Carlberg tunnel.
With this breakthrough the entire Mossehallen escape tunnel excavated by conventional blasting is completed.
Ragnar Reitan, Project Director of MossIA, is happy about the breakthrough: "It is a significant milestone. The work has experienced various challenges and I am proud of the tunnel team, the engineering team and supporting teams of MossIA, and also all external partners who have contributed their knowledge and expertise. A lot of hard work has been put into this. I would like to thank Bane NOR for the assignment and congratulate everyone who has contributed to the milestone."
Eirik Harding Hansen, Project Director of Bane NOR, also emphasizes the significance of the breakthrough: "MossIA has been doing well and resolved several complicated technical challenges. All of this has been achieved without any injuries or sick leave."
Mossehallen escape tunnel in short
Part of Bane NOR's InterCity development
Escape tunnel from Mossetunnel main tunnel
425 meters escape tunnel from Mossetunnel at Myra to Mossehallen, Nesparken
Operated with conventional drilling and blasting operation
Cross section of ca. 35 square meters, width of 5,5 meters and height of 6 meters
Breakthrough on February 7, 2023 in Nesparken, Moss, Norway.